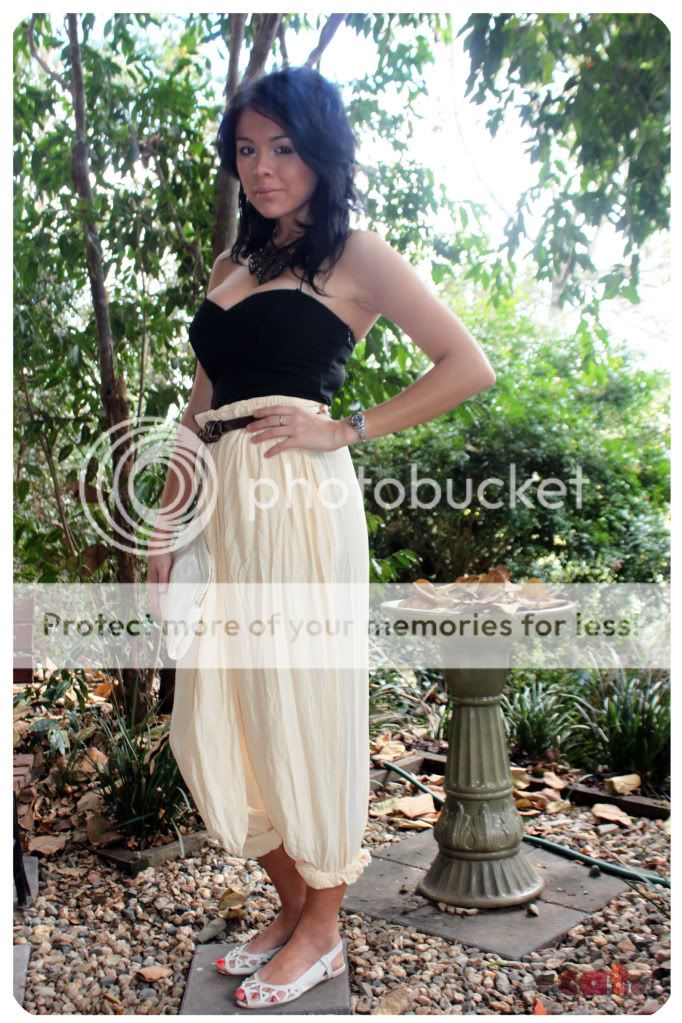 Pants: Vintage
Belt: Sportsgirl
Sandals: Sportsgirl
Bag: Vintage
Collar Necklace: Thousand Island Dressing, but also available from
ASOS
Finally the weekend! It could not come sooner… I ended up spending most of it recovering and fitting in the odd social activity whenever possible. Of course, more study was on the cards but I also managed to catch up on a bit (just a bit) of sleep.
I love these pants… I found them for $5 from one of my favourite thrift stores and never expected to get as much wear out of them as I do. They're actually quite long and swishy but I rolled up the hems with elastic bands (no, not elastic… elastic bands) and I'm pretty happy with how they looked. They're about 2-3 sizes too big and high-waisted which made them perfect for paper-bag waisting with my trusty go-to leather belt. I've been seeing the corset/buster and high-waisted vintage pants combo around a fair bit so I wanted to give it a go. I paired it with a vintage leather clutch and some vintage inspired sandals (note the hot orange toenails peeking through telling me summer is just around the corner – hurrah!). I hope you like!
I've also included a pic showing my typical day to day makeup. It was a non-intentional photo as I have a habit of closing my eyes as soon as a photo is being taken but I thought it still turned out to be a nice shot. I'm a bit of a makeup addict and my eyeshadow collection is a running joke of my friends... but I wouldn't have it any other way! Enjoy!
Edit: Decided to add one more photo that didn't really belong in the set, but I liked how it made the outfit look so I included it anyway =)