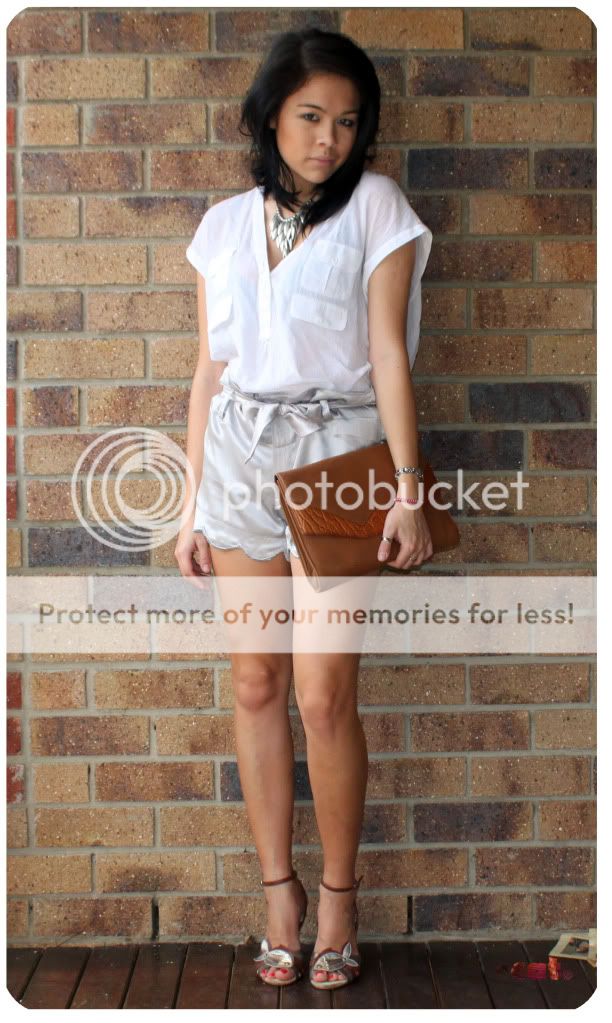 Shirt: Wish
Shorts: Tailored in Vietnam
Shoes: Zoom
Bag: Vintage
Necklace: Forever21
Can I just point out first off, what may or may not look like a camel-toe in this picture is
ACTUALLY
just an awkwardly captured seam in my shorts… ugh I cringed when I saw it and had to do some serious zooming to make sure I wasn't mistaken…
Now that I have your attention, lets move on…
So I found these shoes in my cupboard, and forgot I owned them. I think that I bought them when I was 17 or 18 and I never expected to still appreciate anything I bought at that age! But I forgot how cute they are! I love the combination of brown, silver and gold leather and of course the adorable fish.
The shorts were tailor-made in Vietnam from when I went over there in July. I absolutely loved Vietnam, and have promised myself I will go back again one day. The shorts didn't turn out exactly how I had hoped (I wanted them to sit a little higher on the waist), but they're still super cute and they look as though a lot of work went into tailoring the scallop hem! They're made from lovely Vietnamese silk, which I swear was more taupe coloured when I picked them out but just look straight silver/grey now.
In case you didn't notice, I love my vintage bags. Most of my were collected from my grandmother who was clearly ever so stylish and only had an eye for the finest quality products which I hope will allow me to pass them down to future generations.