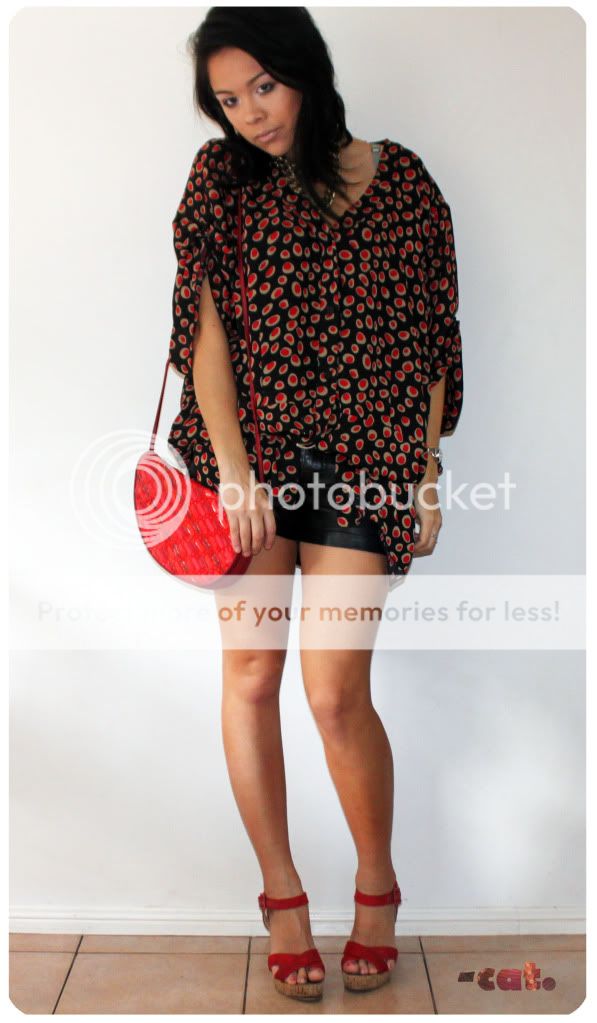 Oversized shirt: Thrifted
Bag: Vintage
Shoes: Sportsgirl
Faux leather shorts: Valleygirl
I wish I didn't have to include a point just about uni, but unfortunately that's all that's going on in my life at the moment... But I can see the light. In 3 months I will be a graduate! And then I'm sure the amazingly awesome and consistently blog-worthy things will happen to me... I'm sure...
I'm looking forward to the day I can wear what I want and not have to think about whether it is practical for hanging out at uni for 12 hours at a time. Usually it's not anyway but still... Not fun...
So just a few quick pics of a recent outfit. The hugely oversized shirt was found in a thrift-store in Florida and the bag was either a hand-me-down from my Mum of my grandmother. I love the shape and the strips of red leather detail. I was desperately searching everywhere for leather shorts when I found these on sale in Valleygirl for only $20! I nearly peed my pants. I've since found some amazing real leather shorts but this are still fun and comfy to wear. Enjoy!