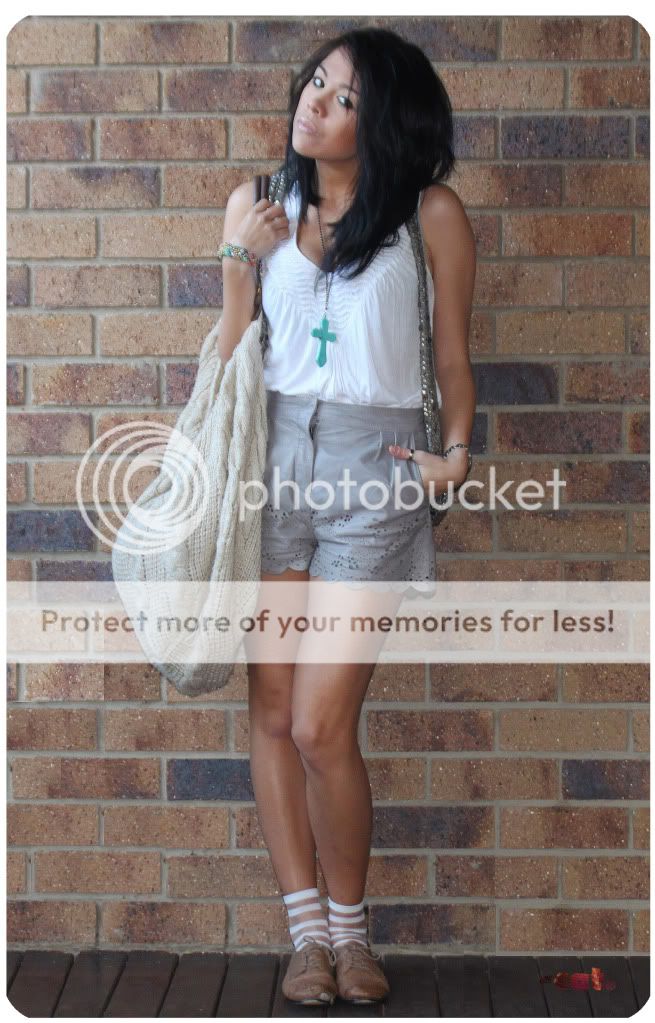 Leather Shorts: ASOS
Top: Ladakh
Bag: Urban Outfitters
Charm Vest and Socks: Sportsgirl
Shoes: Vintage
Bracelet: Forever 21
Necklace: Bondi Markets
We have been suffering from unseasonal torrential rain the last few days, so it was a delightful relief to wake up to a bright sunny day today… only then to hear the howling of the gale force winds…
*sigh*
Spring, how you tease me… So this half explains some of the crappier photos, the birdsnest on my head and the grumpy face. Was not happy about getting blown around or waiting for the calm to get the photos!
These shorts are amazing. I adore them. Grey. Leather. High-waisted. Scallops. Lace-like laser cut outs. What's not to love? I've also owned them for a while and not worn them. It's one of my
OCD
habits. Whenever I buy something I love, it spends a probationary time in my wardrobe, only to be admired until I finally decide they have done their time and deserve to face the harsh environments that I have been protecting them from. Does anyone do this? Or am I just weird? I have other weird habits like that too, which I will have to tell you about another time…
The shorts are no longer available in grey, but now come in Mushroom (a minky purple) which I would definitely own as well if I could afford it! You can find them
here
=)
The socks are new. I went looking for cute socks the other day without a clue of what I actually wanted and when I found these guys, it was love at first sight! I might have to go back and buy them in other colours too… The bag is old and the lining was very poorly made and regularly splits, letting things fall through into the knitted layer. When that happens, it kind of looks like it's taken a dump in it's pants, and hence I have dubbed this bag, "The Diaper Bag".